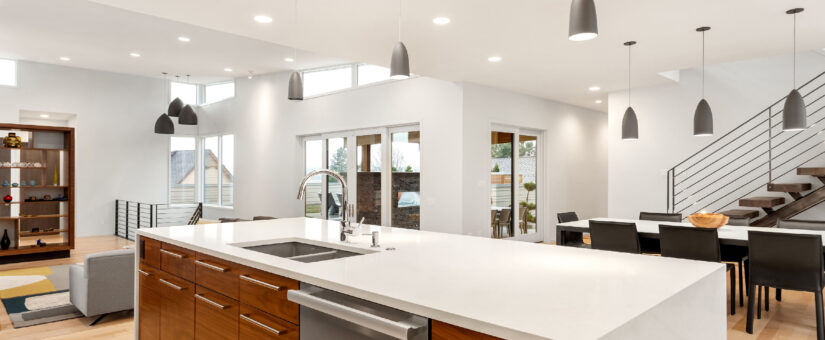 Before you pick lights for your custom home, take some time to plan. Lights are often an overlooked element in the design of a custom home but there's so much to consider when it comes to lighting. Lighting really is more than just brightening a room! Don't make the mistake of underestimating the importance of having a plan for lighting. Check out our light planning tips before you light up your custom home.
1. Familiarize yourself with the different types of lighting
First of all, you need to know the different types of lighting that exist. There are 3 main types of lighting: ambient light, task light, and accent light. These types of lights make up the lighting in a room and they each have their own purpose:
Ambient lighting

is typically a soft light that fills the room, either from a floor lamp or ceiling fixture that directs the light downward.

Task lighting

adds extra light in a certain part of a room to help you do a specific task. Think: desk lamp or strip of lights.

Accent lighting

serves to draw attention to a particular detail or object in the room, like a piece of art or a plant. A spotlight is an example of accent lighting.
When light planning for your custom home, consider the different types of lighting that you'll need in each room. We recommend starting from the top of a space and working your way down.
2. Think about your custom home's design
The architecture, design, and layout of your home will affect your light planning. Depending on the materials used in your home's construction, the amount of natural light, the size of a space, etc., the style and intensity of light you choose will vary. For example, if you have very high ceilings, a few recessed pot-lights aren't going to cut it. For a walk-in closet, however, a few rows of recessed pot-lights would provide good ambient lighting while strip lighting along shelves and inside drawers would really brighten up your wardrobe.
Also, consider your home decor and how the lighting will impact the overall aesthetic. Certain types of lighting can modernize a space while others add a more rustic element.
3. Consider how you'll use the space
In addition to the architecture, you want to plan lighting based on how each space of your home will be used. How you use each room will affect how you set up the lights and how they'll operate. Where will you enter the house and do you want to be able to quickly switch on lights? Think about the placement of switches and accessibility. Where will you entertain guests and what mood do you want to set? Certain accent lights or a fixture with a dimmer can do a lot to set a mood. Do you want to have a light fixture with a fan? It can help disperse heat or improve air flow.
A reading space, for example, should have its own task light, but if it's in a multipurpose room, you'll also want ambient lighting, and possibly even accent lighting. In a nursery, on the other hand, you likely want gentler and less lighting overall.
4. Start with ambient lighting
Most of the time, it's best to start light planning from the top, with ambient lighting. Every room will need at least one ambient light. The ambient lights will be the main source of lighting throughout your home. 
Then, task and accent lighting. Keep in mind that task lighting is easier to add or modify later than other types of lighting. Just remember that you won't necessarily be installing light fixtures in every case, so you want to make sure you have enough electrical outlets installed where you plan (or might like) to plug in accent or task lights.
5. Aim for efficiency 
Prioritize efficient lighting because it'll affect your utility bill. Lighting accounts for 4% of the average Canadian's energy bill. While it might seem insignificant, it can add up quickly. Opt for energy efficient LED or CFL lighting – it'll save you money in the long run! They also last longer so you won't have to change those hard-to-reach fixtures as often. There are other ways you can enhance the efficiency of your custom home lighting, including smart lighting systems, timers, and sensors.
That said, remember that bulbs do need to be changed; take that into account when you're planning the placement of your lights.
6. Learn the lighting lingo or work with an expert 
When selecting bulbs for your light fixtures, you'll need to be aware of the lighting lingo. Pay attention to life hours (the average lifespan of a light, in hours), especially when shopping for light bulbs for fixtures that'll be on for longer periods of time. You'll also want to be familiar with lumens and kelvin. These measurements refer to brightness and hue. 
Lights range from 2000-7000 kelvin. The higher the kelvin, the closer the light's hue is to actual sunlight. For example, a bulb with an output of 3500 kelvin or lower gives off a warmer, amber-coloured hue. Typically, homeowners use bulbs in the 2000-3500 kelvin range. Again, consider how the space will be used and the architecture of the space to help you select the most suitable hue based on the purpose or mood you're going for.
Specialty Lighting 
There's a whole other category of lighting – specialty lighting. It's a broad category because it includes a variety of lighting options for more specialized uses. Specialty lighting refers to lighting and lighting equipment that falls outside of the normal categories, including outdoor lighting. There's a huge variety of outdoor lighting, whether it's for your patio, pool, or outdoor kitchen. If your custom home has a garage, you might also explore more industrial-style lighting options.
Our final light planning tip is that you go room-by-room or space-by-space so you can carefully consider all your options and create a space with the look, feel, and ambiance that you desire. A room's lighting is a major component of its mood and functionality. Since there's so much to think about, you might like to work with a lighting designer. Alternatively, you can speak with our custom home building experts for more light planning tips!
Connect with us on Facebook or Instagram for more tips for your custom home!
About Omega
We don't just build you a house, we build you a home. We assemble the top architects, designers, and trades personnel to work in conjunction with our experienced and licensed staff in order to make your dream home a reality. As a Tarion Custom Home Design-Builder, we feel it is our responsibility to be adaptable to each client's individual needs. There's no job we can't handle, and we will do whatever it takes to meet your requests with high-quality results. Our architects and designers are always looking for new and exciting challenges, so the only limit is your imagination.