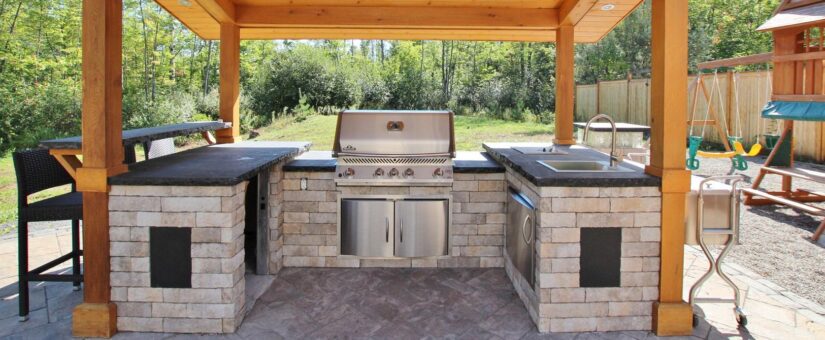 When designing your dream home, it's easy to fixate on the interior. The bedrooms, the family room, the beautiful entranceway, they're all important parts of making your home perfect. However, sometimes during the planning of the interior of your home, you may forget about the exterior! If your family loves to spend time in the backyard together, barbecue, and enjoy the occasional bonfire, you know the importance of an amazing outdoor space. When you're building your custom home, choosing to install a gorgeous outdoor kitchen can change your backyard from comfortable to absolutely luxurious! If you're considering adding a custom outdoor kitchen to your build, here are some features to keep in mind.
Plenty Of Counter Space
When building your custom outdoor kitchen, you need to consider elements that may not be as interesting as a brand-new grill, but will ultimately improve your living space and the comfort you feel while cooking. Counter space may not be the first thing you think of when imagining your custom outdoor kitchen, but trust us, they'll be one of the best parts of your space. Choosing to install gorgeous yet durable granite or stone countertops to create ample space for your utensils, food, and dishes will make your outdoor kitchen feel more luxurious and functional. Consider pairing your countertops with bar stools so the family can sit and visit you while you cook, or eat right beside the grill!
A Custom Bar
Imagine pouring yourself and your friends a drink on a Friday night after a long week of work. It sounds amazing, doesn't it? The steaks that you cook on your grill in your custom outdoor kitchen can only be improved by a fabulous cocktail whipped up at your own custom bar. Having a place for all of your favourite drink ingredients and mixology utensils near your grill, while also having them protected from the elements of the outdoors will make your backyard parties even easier and more fun to throw! When you're designing your custom outdoor kitchen, treat yourself to the perfect bar to really make each dinner party spectacular!
A Beautiful Built-In Grill
Whether you prefer cooking with charcoal or gas, or you're considering placing a full oven in your custom outdoor kitchen, few features are more important than a high-quality, beautiful grill to cook to your heart's content. Without a proper grill, you can't quite say that your custom outdoor kitchen is complete! Build yourself an outdoor kitchen that a chef would envy by adding a new and high-quality grill that is installed directly into your countertop. This stylish and functional addition will help you serve every meal like a professional!
An Outdoor Pizza Oven
It's time to take pizza night to a whole new level. Enjoy stone oven-cooked pizza from the comfort of your own home, and get the whole family involved in making a pizza that's perfect for them! Not only will an outdoor pizza oven make an aesthetically beautiful addition to your home, but it'll also fill your backyard with the rich smokey smell of fire-cooked food, and make delicious family meals that you soon won't forget! Enjoy authentic fire-cooked pizza every night of the week, and become the most popular house in the neighbourhood with your very own stone pizza oven for your custom outdoor kitchen!
A Backyard Patio Roof
Protect your custom outdoor kitchen, food, and family with a rustic wooden backyard patio roof that covers your whole cooking area. These super-elegant and super-functional beauties will protect you from the rain, the wind, and the sun while you're cooking, and they also make the whole space look more complete! Making sure that you have the best and safest grilling experience starts with keeping you from being burned by the sun or getting caught in the rain. With a patio roof, there's no way that the weather is going to stop you from being a grill master!
A Built-In Fridge
How many times have you gone to start your backyard barbecue and had to bring out all of your ingredients from your main fridge in the house? It's annoying, it's tedious, and if you're leaving your condiments and sides in the sun while you cook, they can get warm or soggy! Think of the convenience of having a mini fridge built right into the counter of your custom outdoor kitchen! Keep your favourite drinks ice-cold and accessible, always have the condiments you need, and store all of your veggies and meats until you are ready to use them. With a built-in fridge, gone are the days of melted ice in a cooler and warm soda, have everything you need stay as fresh as possible and available right when you need it!
When you're designing the home of your dreams, don't forget about the outdoor spaces! Creating a custom outdoor kitchen for the whole family to enjoy can deeply enhance your summers, help you enjoy food in new ways, and turn your dream home from comfortable to absolutely luxurious!
Design and build the perfect home and backyard with Omega Homes.
Your dream home is just a phone call away.
About Omega
We don't just build you a house, we build you a home. We assemble the top architects, designers, and trades personnel to work in conjunction with our experienced and licensed staff in order to make your dream home a reality. As a Tarion Custom Home Design-Builder, we feel it is our responsibility to be adaptable to each client's individual needs. There's no job we can't handle, and we will do whatever it takes to meet your requests with high-quality results. Our architects and designers are always looking for new and exciting challenges, so the only limit is your imagination.
If you'd like to see photos of our completed custom home projects,
follow us on Facebook, Instagram, and Twitter.