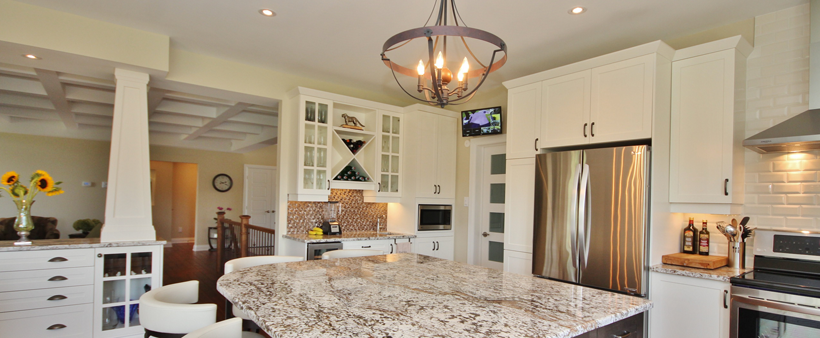 Every room in your custom home is important, but there's something special about the kitchen. It's the gathering place during parties, an area to unwind after a long day and a space to connect with family during dinner. When building a custom home in Ottawa, make sure to design the kitchen of your dreams and include amenities that complement your lifestyle.
Kitchen Island
An island can serve multiple functions in your dream kitchen. It can provide additional prep space, double as a sitting area or even be the main cooking space. Decide if you want to have appliances—such as a stovetop, dishwasher, wine fridge or sink— on the island, or if it would be best served as a gathering place for informal family meals.

By talking with a designer, they can guide you through the options and help you decide how an island can best function for your family.
Cabinetry
Cabinets are often overlooked in the kitchen. More than just storage, cabinets can completely change the design aesthetic in your dream kitchen.

Think about the material you want to use, how high you'd like the cabinets to be installed and which colours would work best with your overall design.

An experienced designer will be able to offer advice that will not only provide space for storage but will also enhance the space.
Kitchen Flow
It's critical to take a high-level approach to your kitchen design and envision how the space works with the dining and living areas.

Many people prefer an open concept floorplan, so you'll need to make decisions about where your kitchen table fits into the design and if you'd like an additional formal dining area. The kitchen is also usually the access point to the backyard, so think about how the kitchen will flow into your outdoor space and if you'd like to include an intermediary area such as a sunroom.
There are many factors to consider when designing your dream home. To ensure you don't overlook anything, work with an experienced designer that can walk you through all the options.
At Omega Homes, we have in-house designers that work with each client to turn our clients' vision into reality.
See how easy it is to get started with a custom build in Ottawa,
contact Omega Homes to set up an appointment.
Omega Homes—We don't just build you a house, we build you a home!