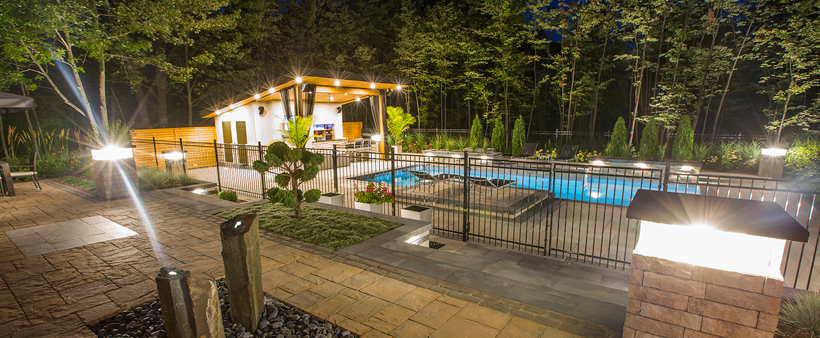 Ottawa winters can be harsh, so when summer arrives, people want to spend as much time outside as possible. When you build a custom home, you can also design the perfect backyard so that you can enjoy the sunshine and warmer temperatures with friends and family.
When designing and building the perfect backyard for entertaining, there are a few points to keep in mind.
Design for Living
It's important to ensure the backyard space is designed for your family. Those that enjoy cooking and large dinner parties will want to incorporate a chef-inspired outdoor kitchen. Maybe the centerpiece of the backyard will be a custom-built pool or hot-tub. Some families want to ensure there is open space for kids and pets to run and play. Whatever activity is important to you and your family should be incorporated into your backyard.
Lighting
Take the time to think through where people will be gathering at night and remember that you'll need to plan for lighting. Choosing the right types of lights and spending time on proper placement can help ensure there is adequate lighting to get around at night while still providing a nice ambiance.
Hardscape and Landscape
To create the perfect backyard, you'll want a mix of hardscape—rocks, pavers and tiles—and landscape. When designing the outdoor space, take into consideration maintenance requirements and how the different spaces will be enjoyed.
Contact us today to learn more about building a custom home in Ottawa—complete with the perfect backyard for enjoying the warm weather.
At Omega Homes, we employ a group of top architects, designers and trades that allow us to turn your dream into a reality. We don't just build you a house, we build you a home.
Want to see our past work?
Follow us on Facebook, Twitter and Instagram
to see galleries of our Ottawa area custom homes.